The Managing Director of Laos' Thanaleng Dry Port, Sakhone Philangam (right), and Group Managing Director and CEO of Mutiara Perlis Sdn Bhd (MPSB Company) Mr Wan Ahmad Azheed Wan Mohamad (left) on Tuesday display signed Memorandums of Collaboration between the two entities, after the signing was witnessed by the prime ministers of Laos and Malaysia.
Operators of Laos' Thanaleng Dry Port and Malaysia' Perlis Inland Port are seeking cost-effective logistics and transport link to boost trade and investment between the countries and beyond.
The Lao investor and Mutiara Perlis Sdn Bhd (MPSB) – the operator of the Malaysian port signed memorandum of cooperation (MoC) this week during the official visit to Laos by Malaysian Prime Minister Datuk Seri Anwar Ibrahim on June 26-27.
The Lao National Railway State Enterprise and Malaysian Railway, Keretapi Tanah Melayu Berhad (KTMB), also signed similar MoC.
Prime Minister Sonexay Siphandone and his Malaysian counterpart, who brought with him business executives, witnessed the signing.
Prior to the signing, Datuk Rani Hisham Samsudin Group Chief Executive Officer of (KTMB) and Dato Shabaruddin Ibrahim, Executive Chairman of MPSB visited the Thanaleng Dry Port and its associated Vientiane Logistics Park to discuss opportunities.
Welcoming the guests, Thanaleng Dry Port's Managing Director Sakhone Philangam said his rail and road terminal port has become a transport and logistics connector.
Being a converging point between the Laos-Thailand and Laos-China railways, cargo passing through the dry port in Vientiane can access Chinese market by trains within shorter time comparing to transport by load.
From China's megacity of Chongqing, the rail link, more than 11,000 kilometres long, crosses the border at Alashankou in the Xinjiang Uygur autonomous region, and then passes through Kazakhstan, Russia, Belarus and Poland before reaching Duisburg in Germany.
By rail, cargo from southeast Asia could reach European market in around two weeks as opposed to 45 days by sea route.
"Why don't we think of linking by land, not relying 100 percent on sea transport?," Mr Sakhone asked.
From the multimodal transport node dry port, cargo can reach Laem Chabang, Thailand's main deep seaport about 150km south of Bangkok.
From Bangkok, the trade route connects to the Malaysian capital Kuala Lumpur and even onwards to Singapore.
Overland by road, the trade route connects to Vung Ang seaport in Vietnam's Ha Tinh province, according to Mr Sakhone.
"We are linking Asean to Europe by rail," the director said.
A number of Thai exporters have already shifted cargo to China by the railways, notably seasonal fruits such as durians. The route enables the Thai exporters to cut transport costs by 30 percent compared to previous route on roads that took longer time.
Shifting durians from Thailand by rail, for instance takes just three days to reach Chinese buyers, Mr Sakhone responded to questions raised by the Malaysian guests.
Ha added that a sanitary and phytosanitary (SPS) centre is being built in partnership with the Chinese side to certify farm products and quicken their movement, notably to the Chinese markets.
The Malaysian businesses said the two ports would complement one another. They expressed hope that future movement of the goods will be better facilitated by the presence of the two ports.
To tap trade and investment potential brought by connectivity, Vientiane Logistics Park Co., Ltd – the developer and operator of the Thanaleng Dry Port is also building a logistics complex where investors can set up operations, according to Mr Sakhone.
The complex comprises seven zones, including a tank farm, export processing centre, logistics park, free trade zone, technology and halal hub, and administrative and office zone.
Investors will enjoy a number of incentives including corporate tax holiday of 8-16 years and value-added tax reduction, among others.
In addition, companies that manufacture or assemble goods in Laos will enjoy privileged access to major markets in countries whose governments have waived or reduced import tariffs on made-in-Laos products.
More than 30 countries including Australia, Canada, members of the European Union (EU 28), Japan, New Zealand, Norway, Russia, Switzerland and Turkiye have extended such special treatment to Laos.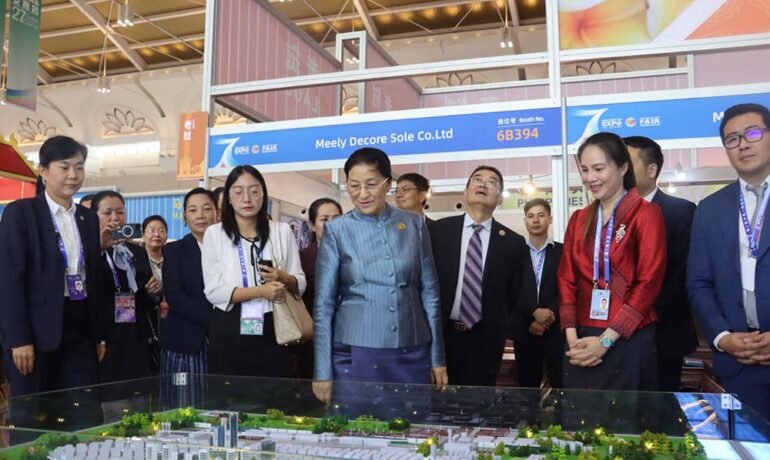 August 24, 2023
ບໍລິສັດ ວຽງຈັນ ໂລຊີດສະຕິກ ພາກ ແລະ ທ່າບົກທ່ານາແລ້ງ ເຜີຍແຜ່ໂຄສະນາ ໂຄງການເຊື່ອມໂຍງເຊື່ອມຈອດ ພາກພື້ນອາຊຽນ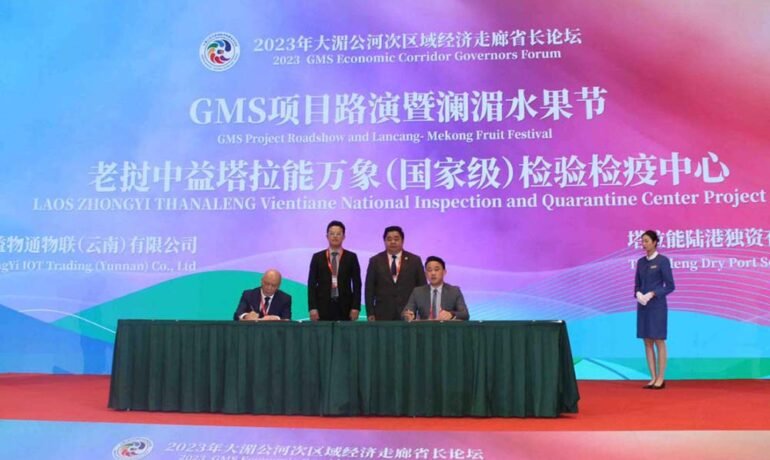 August 24, 2023
ພິທີເຊັນຕໍ່ອາຢູ່ສັນຍາສຶກສາການຮ່ວມມືສ້າງຕັ້ງໂຄງການສູນກວດກາກັກກັນພືດ ແລະ ສັດ ລະດັບຊາດ ທີ່ນະຄອນຫຼວງວຽງຈັນ ສປປ ລາວ. ລະຫວ່າງ Zhongyi