Coordinating Minister for Economic Affairs of the Democratic Republic of Timor-Leste, Eng. Joaquim Amaral, and his delegation on Tuesday visited the Thanaleng Dry Port in Vientiane to learn how Laos' first integrated logistics facility can deliver cost-effective services.
With landlocked Laos on track to becoming a comprehensive regional land link, growing connectivity is enabling the country to offer cost-effective logistics and transport services between regions, a delegation from Timor-Leste has learnt
Coordinating Minister for Economic Affairs of Timor-Leste, Eng. Joaquim Amaral, and his delegation on Tuesday visited the Thanaleng Dry Port and its associated Vientiane Logistics Park to learn how the mega project is providing cost-effective services.
Under construction in the Lao capital near the border with Thailand, the US$727 million logistics facility is fast becoming a hub for transport and logistics services between Southeast Asia, China, Europe and the rest of the world, its operating manager told the guests
Open for business since December 2021, the dry port houses extensions of the Laos-Thailand and Laos-China railways. And through the China-Europe rail network, freight can be shipped between southeast Asia and Europe and beyond within a much shorter time, the Vice President of Vientiane Logistics Park Co., Ltd., Mr Tee Chee Seng, said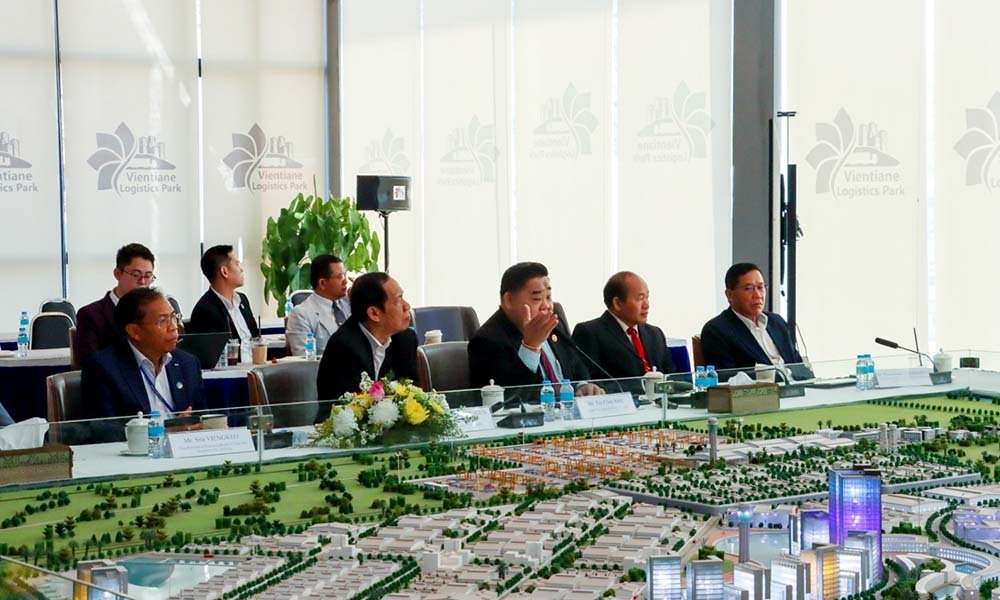 From Southeast Asia, freight can reach European markets in just two to three weeks, much shorter than by sea, which takes about 45 days.
The multimodal-transport-mode (road-to-rail-and-sea) dry port, which links with various logistics centres in the region, has already provided transit services between countries such as Vietnam, Cambodia, Myanmar, Malaysia, Singapore, Thailand and China.
"We hope that one day, from Singapore, we will reach Timor-Leste," Mr Tee Chee Seng said.
Its strategic location — which connects to the Laos-China railway, part of the planned regional rail network connecting China's Kunming to Singapore via Laos, Thailand and Malaysia – and part of the global infrastructure project, the Belt and Road Initiative – gives the dry port a promising future.
The dry port and logistics park is also part of the packaged Lao Logistics Link (LLL) project, which includes the Vung Ang seaport in Vietnam's central Ha Tinh province and a planned railway to link the seaport with the dry port.
Passing through the Vung Ang seaport, freight can reach markets in the Pacific region.
To maximise trade and investment potential, Vientiane Logistics Park Co., Ltd. is also creating specialised investment zones within the dry port and logistics park to encourage more companies to set up business.
They include a tank farm, export processing centre, logistics park, free trade zone, and technology and halal hubs. These zones are expected to become operational by the end of this year.

A number of incentives are being offered to attract investment, including a tax break for a maximum of 16 years. Low electricity costs add to the lucrative opportunities provided to investing companies.
Manufacturers whose products are at least 40 percent processed in Laos are eligible for Laos' country of origin status, which enables privileged access to markets in China, Europe and the United States.
Mr Tee Chee Seng said he foresaw the time when the free trade zone would contain stores selling luxury goods imported from Europe, given the expected influx of Chinese visitors travelling to Laos using the Laos-China Railway.
"That is another opportunity," he said, adding that it takes only about six hours to travel from Kunming to Vientiane by train.
"The market in the south of China is huge," he stated.
Also welcoming the delegation from Timor-Leste was Mr Alounkeo Kittikhoun, President of the Executive Board of Strategy and Planning at PTL Holding Company Limited (PTLH), the parent company of Petroleum Trading Lao Public Company (PetroTrade) – the developer of the dry port and logistics park.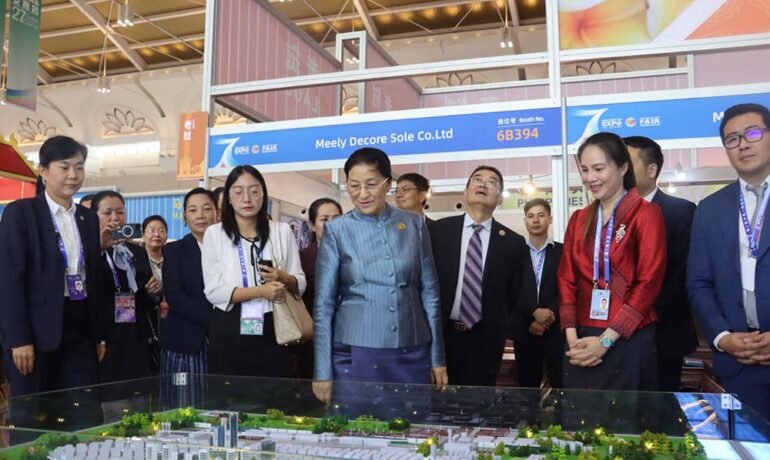 August 24, 2023
ບໍລິສັດ ວຽງຈັນ ໂລຊີດສະຕິກ ພາກ ແລະ ທ່າບົກທ່ານາແລ້ງ ເຜີຍແຜ່ໂຄສະນາ ໂຄງການເຊື່ອມໂຍງເຊື່ອມຈອດ ພາກພື້ນອາຊຽນ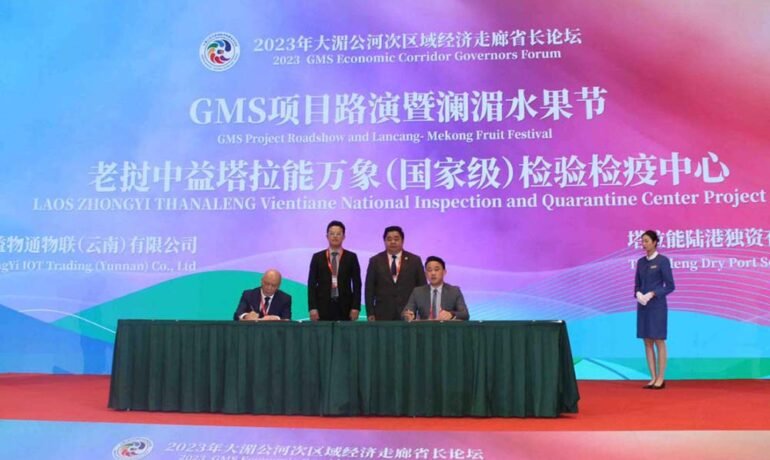 August 24, 2023
ພິທີເຊັນຕໍ່ອາຢູ່ສັນຍາສຶກສາການຮ່ວມມືສ້າງຕັ້ງໂຄງການສູນກວດກາກັກກັນພືດ ແລະ ສັດ ລະດັບຊາດ ທີ່ນະຄອນຫຼວງວຽງຈັນ ສປປ ລາວ. ລະຫວ່າງ Zhongyi